The Kid's Tipi which has a diameter of 220cm, is hand made out of the same high quality canvas used in all our Tipi's (410-430g/m²). The features and uses of the Kid's Tipi are perfect for any outdoor conditions. To give the Kid`s Tipi an individual touch you can paint it together with your children. If you need any advice or help with a self painted Tipi we will be happy to do so.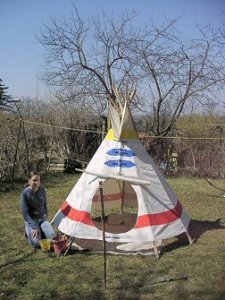 Kid`s Tipi comes with the following:
Tipi with door and smoke flaps
Tipi rope approx 8m
Price: Kid`s Tipi, € 160,-
Because of high transport costs we do not ship the poles and the pegs. You do need 9 poles of a length of about 2,5m available in any do-it-yourself-store. All prices in Euro excluding VAT and transport costs! We welcome any questions and inquiries!